To assess the quality of material layers, a variety of material and surface characterization techniques are available. The capabilities include Photoluminescence (PL), PL Excitation Spectroscopy (PLE), Charge Deep Level Transient Spectroscopy (QDLTS), Secondary Ion Mass Spectrometry (SIMS), Scanning Electron Microscopy (SEM), and X-ray diffractometry. Other analytical instrumentation a Transmission Electron Microscope (TEM), an Atomic Force Microscope (AFM), and X-ray crystallography equipment.

PTCOE's Automatic System of Materials Electrical Characterization (ASMEC) was specifically designed for electrical & photoelectric characterization of dielectric and wide gap semiconductors such as CaF2/ZnS/SrS. It uses powerful techniques such as Q-DLTS and Photo-stimulated Internal Field Transient Spectroscopy (PIFTS) to provide information on bulk/interface trap activation energies and capture cross sections, as well as trap concentration.

Charge Deep Level Transient Spectroscopy
Q-DLTS - temperature scan and isothermal rate window scan with electrical or optical excitation
I-V - Current-voltage ( 2 and 4 probe methods)
Ie-V(Vg) - Emission current measurements
C-V - Capacitance-voltage (pulse and line scanned)
IFTS - Internal Fields Transient Spectroscopic
Main System Specifications
current and photocurrent sensitivity, 1 pA
charge sensitivity, 5 x 10-16 C
deep level concentration sensitivity Nt / N~5x10-7
range of bias voltage, +/- 10 V
range of time (rate) window duration, 2 x10-6-200 s
temperature range, 80 - 200 K

The photoluminescence spectroscopy system can be used to achieve above bandgap and direct excitationby deep- and/or mid UV lasers, a Xenon arc lamp and a Deuterium arc lamp. The resulting luminescence is analyzed with the detection system and provides information on the crystalline quality and impurities. In addition, a tunable light source allows PL excitation spectroscopy, which can be used to investigate the excitation mechanisms and the electronic structures of the luminescent centers in semiconductors. The dynamical properties of the luminescence such as excitation energy transfer can also be investigated by using pulsed lasers.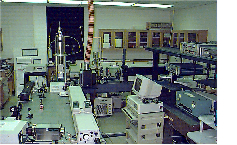 Optical Spectroscopy Laboratory
LIGHT SOURCES
Deuterium lamp (150W): 115 - 400nm, Xe lamp (450W): 200 - 1200nm
Spectra-Physics Ar ion laser: 275, 488 and 514nm
Spectra-Physics Ti-Sapphire laser: 700nm - 1?m
Liconix HeCd laser: 325 and 442nm, Spectra-Physics HeNe laser: 632.8nm
Lambda-Physik Excimer laser: 157, 193, 248 and 351nm, 25 - 30ns pulse
Spectra-physics Nd:YAG laser: 1064, 532 and 355nm, 10ns pulse
Spectra-Physics MOPO laser: 220 - 1800nm, 8ns pulse
Laser-Photonics N2/Dye laser: 337nm, 473 - 547nm, 600ps pulse
DETECTION SYSTEMS
Acton VM502 scanning VUV monochromator
Spex 1000M, 1681, 270M monochromators
VUV photomultiplier tube (PMT), Liquid N2 cooled Ge detector
CCD array, Thermoelectrically cooled GaAs PMT, Si, InAs and InSb diode detector
EG&G 5208 lock-in amplifier, EG&G 162 boxcar integrator
Tektronix 602 fast digitizing oscilloscope
Temperature range

Helium displex system - 10K ~ 350K
Liquid helium dewar - 1.6K ~ 350K